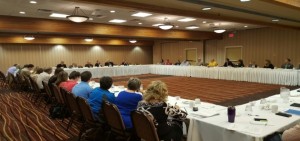 On October 4, 2016, Guardian Pharmacy of Minnesota will be hosting the 5th Annual Long Term Care Legislative Round Table at the St. Cloud Holiday Inn.  Over 70 Minnesota senior housing owners, administrators and directors are expected to attend, along with several Minnesota state senators and representatives.  The purpose of this event is to review long term industry trends, provide industry updates and share best practices.
Some topics that may be discussed include waiver programs, state surveys, and the challenges associated with reimbursements.  This year, special guest speaker Alan Rosenbloom, the president and CEO of Senior Care Pharmacy Coalition (SCPC), will share his expertise on these issues.
Alan has spent his entire professional career in health care, including stints as president of the Alliance for Quality Nursing Home Care, president of the Pennsylvania Health Care Association, and acting president, executive vice president and chief operating officer of LeadingAge.  His input will offer a new perspective that comes from a federal level.
If you are interested in attending this round table discussion, or if you have any questions, please contact Mark Boe at mark.boe@guardianpharmacy.net.
Please RSVP as soon as possible.  There is limited seating for this event and spots are filling up fast.
We forward to seeing you there!